A case study of one of our Mere Green house clearance
Clearance date: May 5, 2017
Name of occupiers: Ms. Aberdeen
Area in Mere Green: B75
Size of property: 3 bedroom, 1.5 bath, with garage
Clearance type: Bereavement
Time to complete job: 6 hours
Mere green house clearance instructions
The client had come into the Mere Green house somewhat by surprise. A cousin she hadn't heard from in years suddenly passed away and had left the house to her in a land trust. The former owner had several extensive collections along with a lifetime of possessions that had to be removed. The house still had laundry in the hamper and dirty dishes in the sink, a mere green house clearance we could deal with. The owner planned to move from her smallish flat into the house after minor repairs.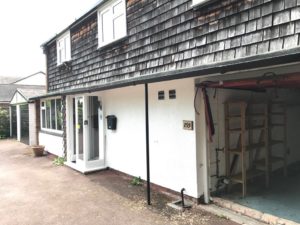 Overview
The previous owner had moved into the house after his parents left it in the late 70's and never left. Over nearly 40 years, he had amassed a collection of over 600 garden scale model trains that had become surprisingly valuable. The value of the collection allowed the client to upgrade her plans to remodel the house. The house was also filled with a lifetime's worth of books, records, knick-knacks, and other personal effects.
Only the front exit of the Mere Green house was usable, which slowed down the process somewhat. The garage was also densely packed with old tools and chemicals that had to be specially disposed of. One bedroom was filled almost floor to ceiling with trains, which took an especially long time. Each of the other rooms had a full complement of furniture, including clawfoot dressers, armoires, beds, couches and a nice set of parlor chairs.
Client Feedback
The client was very relieved. Though incredibly grateful for her cousin's generosity, she was a recent retiree who doesn't drive and had trouble just getting to the house. She was utterly vexed at the proposition of having to clear this house herself, and grateful to find a professional speciality service that could handle the job with ease. Our Mere Green house clearance service greatly expedited her ability to upgrade her living situation.
Other north Birmingham related house clearances:
Do you require a Mere Green clearance?
We are available 9am to 8pm seven days a week and have served families throughout the West Midlands, including Birmingham, Lichfield and Solihull. Please don't hesitate to get in touch; we're a sympathetic professional service with more than 30 years of experience in clearing houses of every size and style. Our services can be tailored to fit your unique needs.
Please call us on: 0121 681 0111 or 0121-384-5650.