Clearance date: May 05, 2017
Name of occupiers: Miss Southgate
Area in Birmingham: Harborne, B17
Size of house: 1 Bedroom, 1 living room, many cubbyholes and large loft
Clearance type: Multi-apartment
Time to complete job: 4 hours and 35 minutes
Removal instructions:
Miss Southgate had recently suffered a family bereavement which understandably had left her with quite a lot of stress handling probate and having to clear the property. We were instructed the Harborne house clearance had to be completed before 4pm on the day, we planned to start early just in case of any impromptu issues.
On the job:
We were in luck! It was a sunny day and not a raindrop in sight, we'd even checked the weather forecast before we left. This was in much comparison to our other Birmingham house clearance, that was chock-a-block full of rain. In this industry it's a Godsend to have clear days, believe you me. Although this Harborne house clearance was relatively small in size this can make things trickier when removing items through corridors, down stairwells and through narrow front doors. Our strategy was to dismantle larger wardrobes and cupboards within the Harborne  property first, starting in the bedroom, and load them on the van as flat as possible allowing for more space and time efficiency.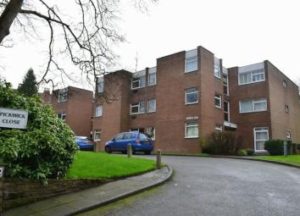 After this we moved to the living room where we collated all the DVDs and books and put them to one side for a local charity shop. A wonderful antique dovetail table was gently taken outside and valued for the client. Back in the living room all electronics were loaded onto the van to be tested at a later date.
The kitchen was loaded with ceramics and like most kitchens under the sink, full of cleaning products that were cleared with care. Finally we entered the loft where we found an unusual oak rocking horse, sturdy as the day it was made.
Before we left the Harborne house removal we opened all windows for several minutes to allow all dust to be released before cleaning the carpets with a vacuum.
Keys were handed back at 2.30pm, a job well done.
Client Feedback:
Miss Southgate couldn't believe how clean we had kept the Harborne property once we left. We provided probate advice as well as valuation on a multitude of collectables from Miss Southgate's own home.
Read our other removal case studies: