A case study of one of our Marston Green house clearances
Clearance date: January 28, 2017
Name of occupiers: None
Area in Marston Green:  B37
Size of house: 4 bedrooms, 2 baths, cellar
Clearance type: Redevelopment
Time to complete job: 6 hours, 30 minutes
Clearance instructions: A local developer bought the Marston Green home in Solihull as-is after it had been abandoned for some time. Judging by the items left in the house, it had been left virtually untouched for about 15 years. Though we pride ourselves on our sympathetic nature in bereavement clearances, it was a nice break to have no emotional concerns in this clearance. The client had no interest in any of the items in the house and simply wanted everything out via the Marston Green house clearance as quickly as possible so the home could be readied for sale.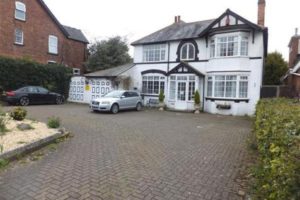 Marston Green Clearance Overview: The house was fairly well packed with clutter, with some papers dating back to the 1970's. It never became clear what exactly had happened to the previous occupant and why the house was left for so long. The previous owner was an audio enthusiast with a large collection of speakers, turntables, amplifiers, and thousands of records. Due to the incoming renovations, the client also asked us to strip the appliances and cabinets out of the kitchen and haul off the scrap. There was also a cellar full of detritus that had gotten wet at some point during the abandonment, which made this Marston Green property clearance somewhat more time intensive than most.
Client Feedback: The Solihull client was happy to find a reliable, professional house clearance service in the West Midlands. She felt our Marston House Clearance service offered considerable savings over other methods of ridding the house of the unwanted possessions and was impressed with our ability get everything cleared in a single day.
Find out more about Marston Green:
Call Us: 0121-384-5650
Other house clearance case studies you may be interested in: